News : inContact Selected to Power 211 LA County Community Resource Center
SALT LAKE CITY, Jan 24, 2012 -- When any of the 10 million residents of Los Angeles County need health and human service assistance, they can call a centralized number for help: 2-1-1. The operators of the system, 211 LA County, selected inContact (NASDAQ: SAAS), a provider of cloud-based call center software and call center agent optimization tools, to power its 24/7/365 contact center. 211 LA County will use the inContact contact routing, ECHO survey and workforce optimization (WFO) solutions, including Workforce Management, eLearning and Quality Management, to ensure leading citizen service, uptime and reporting metrics.
As one of the oldest and most established 2-1-1 organizations in the country with 30 years of service, 211 LA County is a well established asset, and is relied on by its community to respond to more than 500,000 calls annually. When the nonprofit was facing an expensive upgrade to its premise-based equipment, 211 LA County began looking to cloud contact center solutions to power its contact center. The organization needed a provider that could deliver a complete solution with built-in disaster avoidance, guaranteed high availability for always-on customer service, and actionable data from contact center reporting. After a competitive review, the company selected inContact.
"On-premise is not a business model that works for us any longer, especially with how quickly technology changes now," said Maribel Marin, Executive Director, 211 LA County. "We have been struggling with wind storms and power outages, and those are the times when demand for our services is the greatest. The fact that we can have redundancy through the cloud gives us the disaster avoidance we need, in a more cost-effective way than purchasing all of the equipment of a premise solution."
With a strong footprint in the 2-1-1 market sector, inContact was the clear choice for 211 LA County. While inContact provides redundancy for 211 LA County, it also enables the organization to easily partner with and route calls to any of the other 33 similar organizations using inContact in the event of an emergency, whether LA County is without power and Internet, or the call volume extremely spikes.
Continued Marin, "Ultimately, our decision of a provider came down to inContact's customer service; we require 24/7 support and availability. There is a specialized team supporting the 2-1-1 customers at inContact, ensuring that we receive the high touch care we need."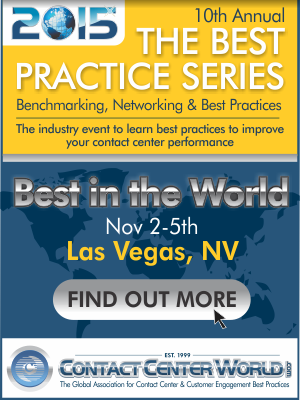 211 LA County has a very structured, performance-based environment, and the inContact reporting, ECHO survey and WFM solutions will help to support the operation's performance management goals. Additionally, the data that 211 LA County can glean from inContact will enable the organization to staff according to forecasted need, and provide more information such as operating effectiveness and efficiency metrics to those outside organizations that fund the 211 LA County programs.
"inContact has become a competitive advantage for 2-1-1 organizations around the country that require uptime and reliability to meet the needs of their communities," said Paul Jarman, inContact CEO. "We are very happy to add 211 LA County to the growing list of 2-1-1 organizations that are providing critical citizen services at the time of greatest need and depending on the inContact cloud solution to meet these important requirements."
Posted by Veronica Silva Cusi, news correspondent
Source: http://eon.businesswire.com
---
About inContact:

inContact, Inc. provides on-demand customer contact center platforms to approximately 650 contact centers across the globe. With its roots in telecommunications and network infrastructure, inContact is unique in its offering because it combines a powerful connectivity backbone with a world-class software platform. The inContact platform includes: a powerful Automated Call Distributor (ACD) with skills-based routing, Computer Telephony Integration (CTI), Interactive Voice Response (IVR) with speech recognition, an innovative online hiring solution, an eLearning application, workforce management functionality, and a customer feedback and survey solution.
Published: Wednesday, January 25, 2012

Printer friendly version